Valentine's Day for the cash-strapped couple
Overindulging on Valentine's Day can make debt problems go from bad to worse. Emotions and expectations are running high, which could lead to heated arguments or buyer's remorse. But you and your partner can work together to make sure Cupid's arrow doesn't pierce the heart of your financial well-being.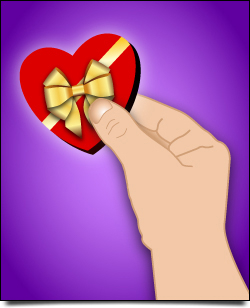 Debt is already a concern for many Canadians, and may be getting worse. According to Statistics Canada, Canadians owed $1.64 for every dollar of disposable income as of the second quarter of 2015.
Avoid a financial heart-to-heart on Feb. 14
"Having any kind of money conversation on Valentine's Day is probably a bad idea," says Sarah Milton, a pension account manager with Clearpoint Benefit Solutions.
Her experience is that those conversations are usually sparked after one partner makes a purchase they can't really afford, or when an extravagant gift makes the other partner feel badly because they're not in a financial position to reciprocate.
"Getting into a fight on a day that's supposed to be about love just makes the fact that you're fighting worse, and whichever partner
started the discussion becomes the bad guy," says Milton.
Keep Valentine's Day gifts reasonable
Milton recommends that both partners agree on and stick to a spending limit for Valentine's Day. However, try not to wait until the last minute to buy gifts, as retailers often mark up flowers and chocolates in the days leading up to the 14th. Waiting until the day before could mean spending more and getting less. Jeffrey Schwartz, executive director of Consolidated Credit Counseling Services of Canada, suggests couples skip buying flowers altogether just for that reason.
Schwartz also encourages couples to do something special at home, like making each other's favourite dish and then eating the meal by candlelight.
"Put a handwritten note where they'll get it first thing in the morning or when they get home. I think a message from the heart is more appreciated and more personal than a store-bought card with someone else's words on the inside," he adds.
Grant Bazian, president of MNP's insolvency services, acknowledges people like to give presents, but advises them to be smart about their spending so they don't dig themselves into more debt.
"Just use some common sense," says Bazian. "You're not going to buy your wife a 2.5 karat diamond ring when you're behind on your credit card payments."
Set debt ground rules
When the time does come to discuss finances with your partner, Milton says both parties should agree in advance to principles that can serve as a foundation for a couple's financial relationship:
Be Honest: Without honesty, you don't have the whole picture. Plus, you risk losing the trust of your partner -- a key to any relationship that can be hard to restore.
Forget the blame game: Discussing debt isn't about allocating blame for how a couple got into a financial hole. It's about finding a solution to resolve money troubles, which requires support, not criticism.
Do whatever it takes: Both partners must fully commit to implementing the necessary changes. These can include revising spending habits, keeping each other accountable, taking on additional jobs and even finding new friends.
Work as a team: The only way to conquer debt is to work together. If one person is a great money manager then they should serve as an ally for the partner who isn't as strong. Conversely, the person who is improving their money habits needs to work hard and be willing to ask for any support they need.
Get professional help
Sometimes, help from an objective third party makes the first steps to solving financial problems a little easier. Consider visiting a non-profit financial counselling agency or a bankruptcy trustee. Schwartz and Bazian confirm their respective firms offer free confidential meetings to discuss financial situations between couples throughout the year, not just on Valentine's Day.
"The idea behind the meetings is allowing couples to work towards a healthier financial future together," says Schwartz.
"Before people make decisions, they need to have their facts straight about all their options, which is what these meetings are for," explains Bazian. "I'm a big believer in having couples come in -- even if one person is having financial problems and the other isn't. They're a family and both should be cognizant of what's going on in each other's life."
See related:
3 clues your spouse is lying about finances
;
How to prevent debt from spoiling your wedding
Updated February 3, 2016
Most recent All credit card news Stories