Virtual reality could change the face of shopping, banking, rewards

Imagine being able to see home renovations before you take out a loan for them. Or seeing yourself in an outfit you want without having to schlep to a store to try it on. Or taking a look around a vacation destination before you deplete your rewards points for it.
Thanks to huge advances in virtual and augmented reality technology, these dreams are reality and are changing the way Canadians shop, bank and use rewards.
Virtual reality was once a static technology reserved for the arcade or special events. Users had to stand on huge elaborate platforms and wear a cumbersome headset just to fully immerse themselves in the virtual world. It was also incredibly expensive and far out of reach for the average consumer's home use.
Even though that technology is still in use today, smartphones have democratized access to a virtual experience and headsets have become so affordable that early projections have the market going from 2 million headsets available now to 25 million headsets available in 2020.
"Mobile technology is the reason virtual reality technology is where it is today," says Rodrigo Vergara, chief evangelist at Genius Marketing, a Montreal-based firm specializing in virtual reality, 360-degree video and immersive storytelling.
"The computing power of today's smartphones is absolutely ridiculous, and that's really what's driving virtual reality today."
There are plenty of 360-degree videos you can watch on your smartphone that place you in a fully-immersive 3-D environment - move your phone in any direction and the environment goes with you.
You can get more immersive by inserting your phone into a wide range of affordable headsets from big companies such as Sony, Samsung, Google and HTC. Headsets range from the $800 Occulus Rift to the $20 Google Cardboard, which is literally made of cardboard.
From e-commerce to v-commerce
"This is where we're taking commerce to the next level," says Vergara. "The advantage of e-commerce was bringing the store to you." Now you can put that in a headset and suddenly, you can essentially have the full experience of going to the store and looking at things close up, without leaving your couch.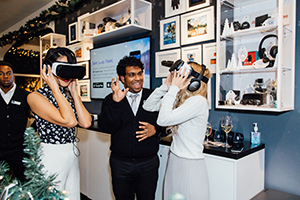 Image provided by RBC

Shoppers explore rewards destination options via virtual reality at RBC's 2016 Avion Holiday Rewards Boutique.
RBC's Avion Rewards Program, for example, gave Toronto mall shoppers the ultimate try-before-you-buy experience at the Avion Holiday Rewards Boutique during the 2016 holiday shopping season.
Shoppers stepped into the boutique, put on a headset and - with their eyes - chose a virtual environment. Options included a beach, a golf course or a gourmet kitchen.
After 30 seconds of being fully-immersed in their chosen destination, a carousel would pop up featuring various RBC Avion credit card rewards that would correspond to the virtual experience. If your eyes lingered on one of those rewards, the product would come forward and give you a full 360-degree view and tell you how many reward points you'd need to acquire it.
"The Avion Holiday Boutique was a way to bring the Avion brand to life by taking away the stresses of holiday shopping and creating an oasis in the centre of the chaos where patrons check their coats, get their parcels gift wrapped and are transported to a truly relaxing, inspirational and one-of-a-kind experience," says Jennifer Howard, senior director of marketing for RBC digital payments and cards.
"What better way to experience the full breadth of the rewards available than with a technology that allows you to jump right in and play around?"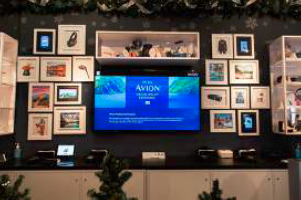 Image provided by RBC

The "wall of rewards" at RBC's 2016 Avion Holiday Rewards Boutique.
According to Eddy Ortiz, vice-president RBC solution acceleration and innovation, in a few years, Avion rewards cardholders won't just preview products and be transported to new virtual experiences. They will actually be able to purchase the real-life equivalents of those vacations and experiences with their reward points in the virtual world.
Using VR for emotional financial decisions
One reason virtual reality is much more powerful to marketers is it helps consumers build a stronger emotional connection to a product or brand. This is what immersive artist Chris Milk calls "the ultimate empathy machine."
"Virtual reality triggers something in the brain on a different level entirely than e-commerce," says Vergara. "We're all used to being bombarded by images, but being there is a completely different story."
He gives an example: if you see a UNICEF commercial on TV, it's easy to simply change the channel. But if you were transported to a Syrian refugee camp?
As far as VR in banking goes, one step is being able to virtually visit a bank before you go in, as is the case with Desjardins Montreal Marche Central, which opened in December 2016.
RBC is looking at how virtual reality can help customers during those bigger, more emotional financial decisions, such as buying a house, saving for retirement or sending your kids to college.
"Parents are always very concerned about where their kids are going, so what if they could stick on a VR headset and see how the campus is working out and what their dorm room might look like?" says Sarah Wilkinson, senior manager of RBC innovation strategy and communication, solution acceleration and innovation.
"We believe, as a bank, because we're part of those financial transactions, we can help enable those emotional transactions as well," Wilkinson says.
Augmented reality: VR's close cousin
Virtual reality isn't the only technology changing the way we shop. Its close cousin, augmented reality, also uses your smartphone, but overlays 3-D graphics on top of the real-world environment. AR is the technology the popular app Pokémon Go used when it debuted in 2016, allowing users to "see" the creatures in their house, car or wherever their smartphone camera was pointed.
RBC has used augmented reality since 2014, when its mobile app began superimposing directing icons and distance estimates to the nearest branch on the streetscape in front of its users. Now, the technology has advanced enough to superimpose clothes on your body and give you a chance to purchase the dress or pants if you like the fit.
"How does the bank participate on this? Given the amount of work we're doing in this area and the resources we're devoting to this, we can help our merchant partners enable this capability and provide customers with the ability to pay in the same virtual world, using their reward points, for example," says Ortiz.
He estimates this payment capability will be available from RBC sometime in 2017.
Virtual reality check
Though great progress has been made in the field, virtual reality still has drawbacks in its current form. Headsets are still necessary, and they can be obnoxious-looking and some can be fairly expensive. VR also can cause motion sickness for some.
Dimitri Williams, an associate professor at the University of Southern California Annenberg School of Communication and Journalism who studies the way people interact with technology, points out virtual worlds can also be very isolating.
"I don't think people are going to be wearing VR goggles much of their days," he told CBS Sunday Morning. "Because then they can't look at other people. And it is just that simple."
But proponents of the technology disagree. Available peripherals such as the Oculus Touch are one way to take VR from a visual experience to a tactile one, and multiple people will soon be able to interact in one virtual environment at the same time.
"VR is evolving to become the ultimate shared emotional human experience," says Wilkinson. "Once we get to the point where we add in motion and have multiple people interacting in the same virtual reality and actually experiencing those emotions, I would argue that we're actually coming full-circle and moving away from the stagnant, unemotional, can't-touch-it online and mobile shopping experiences, toward a truly emotional human connection.
"It's all the benefits of an emotional experience with all the benefits of mobile or online shopping."
See related:
Payment trends to watch for in 2017
,
New banking, payment technologies offer accidental accessibility
Published February 23, 2017
Most recent Product Features Stories