Visa Canada's digital wallet vs. the world
If Visa Canada gets its way, making a credit card purchase will require you to 'click' rather than reach for your card. That's because Visa Canada plans to roll out a digital wallet in Canada and the United States in the fall of 2011.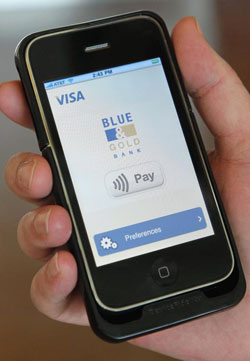 "The widespread adoption of Internet and mobile technology is changing the way people connect and transact across the globe," says Mike Bradley, head of products for Visa Canada. "The migration away from cash and cheques is not just something that we're seeing in Canada; it goes hand-in-hand with the global migration towards the convenience and security of electronic payments."
Visa Canada hopes to cash in on the e-payments trend with a digital wallet that will store customers' credit and debit card account information, both for Visa cards and other cards. Whether at their computer or on a smartphone at the mall, wallet users can make "click-to-buy" transactions by simply clicking a button rather than manually entering account information.
To be sure, the digital payments space is heating up. Twitter co-founder Jack Dorsey's company Square is single-handedly changing the way merchants and individuals accept secure payment from credit cards via a mobile phone. Even Google recently teamed up with MasterCard and Citigroup to make its own mark in the mobile payments arena.
So what can Visa Canada bring to the table? Plenty, according to Bradley. "Visa's digital wallet delivers the simplicity that consumers are looking for, giving people more ways and places to pay with digital currency," he says. "It also comes with the convenience, security and reliability that the Visa brand represents to billions of people around the world."

Here's how Visa plans to try to separate itself from the pack.
Special features
According to Bradley, Visa's digital wallet will include a number of features that will further enhance benefits for its users. These include:
A menu that allows consumers to set preferences for how their wallet will work, allowing them to customize and control the features of their personal wallet -- from privacy settings to designating which account will be accessed based on merchant type or purchase amount.
The ability to personalize their shopping experience by opting in to receive money-saving discounts or promotions from the participating merchants.
Additional features that will extend the utility and capability of Visa payments, creating new channels for consumers to use their Visa debit and credit cards.
Strategic partners
In addition to "working with leading financial institutions and merchants to launch the digital wallet in the U.S. and Canada in fall 2011," Bradley says that the financial institution is currently recruiting card issuers, community banks, credit unions, payments processors and merchants. "Canadian financial institutions currently supporting Visa's wallet strategy are Royal Bank of Canada, Scotiabank and TD Bank Group," says Bradley.
Cutting-edge technology
While the jury is still out on which technology will become the standard format for mobile payments, Near Field Communication is definitely a forerunner. The popular short-range communications technology lets users make secure mobile payments with the wave of a smartphone or card.
"Visa has helped to establish the global standard for NFC," says Bradley. "For the last five years Visa has played a leadership role in commercializing NFC payments and continues to partner with merchants and financial institutions to offer Visa account holders simple 'wave to buy' capability. Visa payWave functionality enabled by NFC will be available as a key feature of Visa's digital wallet as early as 2011."
The race is on.
See related: Bend it like plastic; Mobile banking poised to skyrocket in Canada
Updated June 8, 2011
Most recent Product Features Stories