What a looming interest rate hike could do to your debt
You've probably seen the alarmist headlines: if interest rates climb by just 0.25 per cent, 700,000 Canadians would struggle with their finances. And up to a million borrowers wouldn't be able to keep up with monthly payments if interest rates increased 1 per cent.
Climbing interest rates would cause major financial troubles for Canadians, a September 2016 report from credit monitoring company TransUnion found. The report says more than 26 million Canadians carry credit debt and, on average, Canadians carry about 3.7 credit products each.
The report focused on the repercussions of an interest rate hike on two types of credit: lines of credit and mortgages.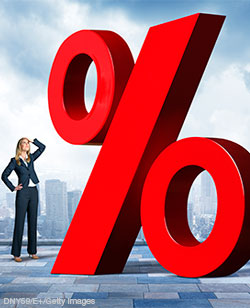 "The size of the monthly payment shock is only one side of the equation," Jason Wang, vice president of risk analytics with Progressa and TransUnion's former director of research and industry analysis, said in the report. "For some, a $50 increase in their obligations may simply be managed by forsaking a couple of restaurant dinners and eating at home, while for some others, this may mean they would not be able to fill their gas tanks to get to work."
"I have clients living just paycheque to paycheque," says Annie Kvick, a North Vancouver-based expert with Money Coaches Canada. "Even $100 more could be a breaking point."
Here's what you need to know about an interest rate hike, what debts it could affect and what it means for borrowing moving forward.
What debt would an interest rate hike affect?
Mortgages and lines of credit are most at risk of interest rates climbing.
Mortgages can come with either a fixed interest or a variable interest rate. If you're locked in a fixed rate mortgage, you won't see the effects of an interest rate hike until your term is over and it's time to renegotiate, says Scott Hannah, president of the Credit Counselling Society.
A variable interest rate, however, leaves you on shaky ground: if the Bank of Canada's prime lending rate increases, your borrowing rate will increase, too.
"The same applies to lines of credit, as they are variable rate," Hannah says.
If interest rates climb too much, banks may even reduce credit limits on unsecured lines of credit. This would help banks "to protect themselves against some of their customers having difficulty managing the repayment of the line of credit at a higher limit," he says.
A higher interest rate also could affect student loans. If you brokered your loans with a floating rate, instead of a fixed rate, you could see more interest and less principle tacked onto your payments.
As for credit cards: if you have a card with a variable interest rate, it could be subject to increases. However, most Canadian credit cards have fixed interest rates, so you're probably in the clear.
How much could payments rise?
A quarter per cent hike may not seem like a lot, but it's cumulative. If, by the end of three years, interest rates have gone up by 1 per cent, households will feel the effects.
Hannah offers this analogy: a 1 per cent interest hike on $500,000 amortized over 25 years at an existing rate of 2.95 per cent would increase payments from $2,353 to $2,617 per year, or $264 per month.
"That has significance for a lot of consumers," he says.
The TransUnion study found that a 0.25 per cent climb would "seriously" affect 15 per cent of Canadians in a variable-rate mortgage, line of credit or both. Their payments would go up by at least $50 a month. A 0.5 per cent interest hike could hurt up to 40 per cent of Canadians.
Who's most vulnerable?
Most at risk are Canadians who are already pouring all of their income into their housing, utilities and debt without a penny left over.
Even though you might already have a mortgage, you might run into problems when it's time for a renewal. You may no longer meet the criteria and end up with steep interest rates because you're now a risky borrower.
"Your rates are going to be higher now, so you're going to be struggling even more to make payments," says Susan Woolsey, an Ottawa-based mortgage broker. "One per cent could kill some households -- they'd probably end up losing their house."
If you're already toeing the line between good borrower and risky borrower, it will become even more difficult to qualify for loans in the future because minimum monthly payments required to service the loans would go up, too.
"You would need a higher income or a combination of a higher income and a lower total debt service ratio," Hannah says.
Not everyone is at risk if interest rates rise, Lee says. "This report assumes everyone is right on the edge of affordability, but that's simply not true," he says.
If you've been living in your home for years, don't have young kids to pay for, and have savings, you're fine, he says.
What are my best options moving forward?
Experts suggest that consumers anxious about interest rates take these steps:
Pay down high interest debt now, if you can. Woolsey says if you have extra money to spare, aggressively tackle your high-interest credit card debts. This will make you a better candidate to keep a low interest rate when it's time to renegotiate mortgage terms.
If you have a variable rate mortgage, lock in a low interest rate for as long as you can. This will keep you out of harm's way if and when interest rates creep up.
Build an emergency savings fund. Kvick says a rainy day fund is key if you have a credit product with a variable interest rate and things take a turn for the worse.
Ask loved ones for temporary help. Lee has seen interest rates climb in past decades, but the impact was lessened by family members who, he says, offered "love capital."
Downsize however you can. Consider moving into a smaller home, selling your second car or renting your basement for supplemental income.
Seek advice from a mortgage broker. If you can get help to refinance your home for wiggle room, snag a better interest rate or walk you through getting ready for a renegotiation when your term is up, do it. Debt counsellors are also at the ready to help if you can't manage payments.
See related:
How to pay off debt without isolating from friends
,
5 factors in choosing a debt consolidation plan
,
How credit card interest works
Updated July 12, 2017
Most recent All credit card news Stories