What is the 'right to offset'? How bank clause could worsen your debt
Sometimes, you may have to miss a credit card payment. Before you know it, you've missed several months' payments and your credit is tumbling. But did you know that your chequing account balance might take a hit, too?
The right to offset -- sometimes called the right to set-off -- is a clause that allows creditors to pull money from your bank account to cover an outstanding debt.
That surprise drain on your bank account is something not a lot of people realize can happen, says Laurie Campbell, executive director of Credit Canada, a non-profit credit counselling firm.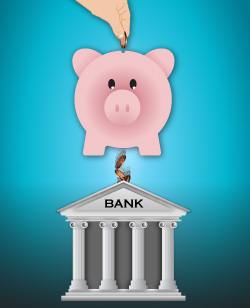 Both Campbell and Brian Pritchard, a credit counsellor and senior vice president at BDO Canada, have seen households rocked by the right to offset.
"It becomes problematic when ... your pay goes in and you're about to cover household expenses, but the money's not there," Pritchard says. It can be the catalyst that starts a snowball effect of debt.
"It happens on a regular basis because consumers don't realize the implications," Campbell says.
If you are indebted to your financial institution, you can take these measures to protect your chequing account from the right to offset:
Open a separate account for your income streams.
The right to offset allows a draw on your account only if the debt is tied to the same bank as your savings, so don't tie all your credit cards, lines of credit or other loans to the same financial institution that's holding your savings and chequing balances.
When clients head to BDO to start the bankruptcy process or to file a consumer proposal, the first thing experts advise these consumers is to open a new bank account with a financial institution that isn't holding your debts.
Make sure your income goes to the new chequing account.
After you've set up a new account, update your employer and any payees with the new information.
"Make sure pay goes into this new account, preauthorized debits come out of this new bank account, and make sure pension payments go into this bank account," Pritchard says. "Anything you receive on an ongoing basis goes here to make sure that money isn't in the lending institution you owe money to."
Talk to your creditor and financial institution.
If you've hit hard times, talk with your creditor and bank instead of waiting for them to make the first move. Your bank doesn't know that you lost your job or had to pay for an expensive emergency. It's up to you to call lenders and your bank to explain your situation and try to come up with a solution for any outstanding debt.
"Be proactive and say, 'Please do not take money out of my account,' but broker a new due date or a payment and hold up your end of the deal," Campbell says.
Understand your terms and conditions.
When you sign off on your cardholder agreement, you're accepting the right to offset clause. It exists with most banks and with nearly identical stipulations.
Here are three of the five big banks' clauses on the right to offset:
RBC: "The bank is at all times authorized to set off all moneys. ...The bank is not obliged to give prior notice to the customer of any exercise of its right of set-off. Once the bank has exercised such right, it will inform the customer."
CIBC: "CIBC may apply a credit (positive) balance in any of your accounts against any debt or liability you may owe to CIBC or any affiliate of CIBC no matter how long it has been owed. CIBC may do so in any manner it considers necessary without first giving you notice and regardless of whether the accounts are individual or joint accounts."
BMO: "We may apply a credit balance in any of your accounts with us against any debit balance you may have in any other of your accounts with us. We may do so without first giving you notice and regardless of whether the accounts involved are joint or individual accounts."
It's easy to sign without really reading all your terms and conditions, but "the right to offset" is a great example of why you should read your cardholder agreement. The Financial Consumer Agency of Canada (FCAC) states on its website that it's up to you to know your account's terms and conditions.
"You should look at your contract to see if it includes a 'right-to-offset' clause. You should also talk to your branch manager or service centre for information about your financial institution's right-to-offset policy," the FCAC website states.
You can make a complaint about your bank to the FCAC through its website.
See related:
When paying less than your full card balance makes sense
,
How to get your bank, creditor to reverse your fees
Published September 22, 2016
Most recent All credit card news Stories