What to keep, what to toss
Keeping your financial documents in order isn't just a matter of organization -- it's a requirement.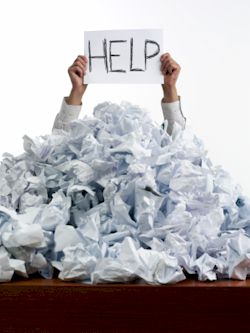 Clean up your finances

When your life is cluttered, it can affect your health and your finances. And too much clutter can be overwhelming; where should you begin? Know what you need to keep and take it one small step at a time.
Main story: Clear your clutter, improve your finances
According to the Canada Revenue Agency (CRA), you must keep all records and supporting documents required to determine your tax obligations and entitlements for six years. This period begins at the end of the tax year to which the records relate.
"If you're audited and you don't have the proper documentation, the CRA will reassess your return based on the documentation you have," says Shani Marzin, a partner at S&P Accounting Services LLP. "So you can't just say, 'I have parking receipts but I can't find them.'"
What to keep temporarily
Examples of records you need to keep include charitable donations, childcare expenses, spouse or child support payments, moving expenses, and tuition and education amounts.
Records can include ledgers, journals, vouchers, financial statements and accounts, and income tax and excise tax records, says the CRA, in addition to others.
Supporting documents provide documentary evidence of transactions. Samples of these include sales invoices, purchase receipts, bank deposit slips, e-mails, cancelled cheques, cash register slips and credit card receipts.
To store them, Marzin suggests keeping all documents in folders and categorizing them according to year.
If you need incentive, remember the CRA may disallow any deduction or expense you are unable to support, says Neil Shalapata, communications manager for the CRA.
It's also important to keep in mind records must be kept in Canada unless you've been granted special permission by the CRA to keep them elsewhere, says Peter Doyle, office manager and accountant at The Catholic Register newspaper.
Marzin says that individuals should keep the originals for all documents as a precaution. "If you're audited and you have copies for some of your expenses or some of the documents, they will accept it -- unless they have a reason to think they are fake."
What to keep indefinitely
Not all your documents can eventually go in the trash. According to the CRA, "records and documents concerning long-term acquisitions and disposal of property, the share registry and other historical information that would have an impact upon sale or liquidation or wind-up of the business must be kept indefinitely."
"You would never destroy the deed of your property, legal documentation or mortgage documentation," says Doyle.
In addition, corporations must retain any record containing details about the ownership of the shares of the corporation's capital stock and any transfers of these shares, says Shalapata.
What is safe to throw away
"Any documentation that is not needed to assist an individual, business or other entity in fulfilling their tax obligations or to calculate the credits they may be entitled to receive do not have to be retained for the six-year minimum period," notes Shalapata.
For the essential documents, once the six-year timeframe has elapsed -- assuming you're not being audited -- Doyle recommends taking the precautionary step of shredding financial documents to avoid being a victim of identity theft.
"People should not put their documentation in their blue boxes because they could be stolen," he says. A little personal information can go a long way in giving a fraudster the ammunition to open a bank account, apply for loans and mortgages and obtain benefit and credit payments and beyond.
If you're unsure of whether to keep or discard certain documents, Marzin suggests getting in touch with your accountant. Otherwise, you can always call the CRA for clarification at 1-800-267-6999.
Published August 27, 2013
Most recent All credit card news Stories