Expert Q&A: What you can do to minimize your risk of card fraud
The upcoming federal election isn't the only thing dividing Canadians. The nation's citizens are also split over when it's safe to use their credit cards. That's according to a new study by Visa Canada. The February 2011 survey shows that while almost all Canadians believe it is safer to use a payment card in a retail outlet (94 per cent), confidence levels are significantly lower for card-not-present transactions. For example, only 49 per cent of respondents believe it's safe to use a payment card by phone.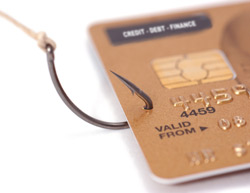 What are the real credit card fraud risks Canadians should be worrying about? Gord Jamieson, Visa Canada's head of Payment System Risk, gives us the lay of the land and offers advice on how we can minimize our exposure to credit card fraud.
CreditCards.com: What are some of the most common credit card scams?
Gord Jamieson: Fraudsters may try to get cardholder information through credit card skimming (creation of counterfeit cards), point of sale tampering [or] hacking attacks designed to steal card information or phishing (fake e-mails).
CreditCards.com: Are Canadians taking the necessary precautions to protect their credit card information?
Jamieson: A recent survey conducted by Ipsos Reid on behalf of Visa showed Canadians are conscientious about protecting their payment cards. In fact, very few Canadians who use debit or credit cards are engaging in risky behaviour, such as sharing their PIN (14 per cent), sending credit card information by e-mail (11 per cent) or sharing information during a phone call that they did not initiate (5 per cent). That said, it's always a good idea to remind cardholders about how to keep their card information safe:
Never lend your card to anyone else to use.
Never share your PIN or write your PIN on the card or in your wallet.
Don't provide your credit card info over the telephone/internet if you receive an unsolicited call or e-mail. Verify the source before you provide any information.
Don't leave your cards or wallet/purse unattended.
Keep an eye on your card when it is being processed (skimming).
Check your card when the merchant returns it to you to ensure it is your card.
CreditCards.com: What steps can consumers take to minimize the risk of credit card fraud when shopping online?
Jamieson: The following tips can help cardholders avoid fraudulent sites and keep your payment information safe:
Keep user names and passwords secret.
Use the latest version of your browser's software and check to be sure your computer's operating system software is up to date.
Use only secure Internet browsers that allow secure transmission of data.
Only give your card details when you initiate a purchase.
Keep a record of transactions, either through e-mail confirmations or by writing down confirmation numbers provided by a merchant. Review monthly statements thoroughly.
Check the site for the merchant's delivery and return policies before making a purchase to ensure items can be returned if they are not in satisfactory condition.
Never respond to an e-mail request for personal or account information, even if it appears to be from a trusted source.
Never send payment information via e-mail since e-mail is not secure. Outside parties can read information that travels over e-mail.
CreditCards.com: What are the various levels of protection built into a credit card?
Jamieson: Visa's approach to fraud prevention is based on the belief that the only effective way to fight fraud is to employ multiple layers of security -- including Chip and PIN, Zero Liability and Verified by Visa. For example, The Verified by Visa service ensures purchases made online with a Visa card are made by the actual cardholder through the use of a personal password. Free for consumers, the Verified by Visa program has been adopted by more than 203,000 merchants and has been activated by 65 million cardholders around the world.
See related: 5 ways to safely donate to charity with your credit card; Card scams don't deter online shoppers
Published March 30, 2011
Most recent Legal, regulatory, privacy Stories