What your card's travel perks actually have to offer
When you travel, your credit card perks can be a huge help and save you money -- if you know how to use them. Many cardholders, though, don't know their credit cards hold benefits such as trip cancellation insurance, baggage insurance and lounge access.
"Generally speaking, most people don't know what benefits they're entitled to," says Barry Choi, founder of The Money We Have, a personal finance and travel blog. "If you think about it, it's pretty normal because how many people actually read the fine print of their credit card policy?"
Even if cardholders know they have these card perks, they often are confused about what the benefits do and do not cover.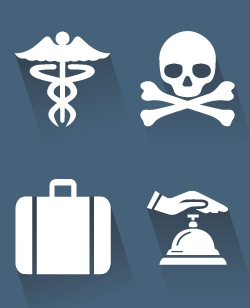 So to clear up any confusion, here are five common travel credit card perks and what they can do for you.
1. Travel health insurance
Travel insurance, particularly travel health insurance, will cover you in the event of any health problem when traveling out of the country, such as an emergency room or doctor visit, or a hospital stay.
"No matter when you travel, you need to have travel insurance," says Choi. "It's stupid to travel without it, and it doesn't matter where it comes from. However, if it's on a credit card, that's one more expense you don't have to pay for."
But credit card travel insurance coverage varies, so read your policy to find out what kind of insurance you have and what it covers.
"For example, some credit cards offer 10 days of coverage, while some offer 14 days, so, obviously, if you're traveling beyond that time, you need to buy some additional insurance because it's just not worth the risk," says Choi.
In Canada, we're spoiled by our health care, but when traveling in the U.S., it could cost you tens of thousands of dollars if you need to visit the emergency room. Before you cross the border or catch a plane, make sure your credit card's travel insurance covers your entire trip. Also be sure it covers all potential needs: if you plan to go white water rafting, are you covered for injuries incurred in the water? If you have questions, you can always call your insurance company (whether it's through your credit card or not) and clarify.
2. Baggage insurance
Baggage insurance covers lost, stolen or delayed luggage, and related costs if you need to purchase new clothing or amenities.
"As far as baggage insurance is concerned, if you're getting a travel credit card, it's usually included. And for me personally, it's a perk you should get," says Choi.
It's worth checking to make sure your travel card has this perk though. It's not mandatory. "But if you're getting a credit card and you're going to use insurance benefits, you might as well get one with everything," he says.
3. Trip interruption/trip delay insurance
Trip interruption -- or what some credit card companies call "trip delay" -- covers you if you need to return home in the middle of your trip due to an illness or injury, severe weather conditions, government travel restrictions or similar serious circumstances. It also covers you if your flight is delayed for more than four hours.
Many people don't realize the rights included with trip interruption insurance, says Choi. "They're waiting -- sitting in the airport -- when they could be sleeping comfortably in a hotel," he says.
What you're entitled to depends on the circumstances and the rules of your card. For example, some credit cards allow friends to benefit from your trip interruption insurance, while others cover only immediate family.
"The good thing about credit card travel insurance is, it's not like airlines," says Choi. "Where airlines will try and give any excuse not to pay out, as long as you make a claim on your insurance and let them know you've been delayed, you can start making covered purchases right away."
Generally, the spending limit is $500 per person per trip, and you must have booked your tickets on that credit card. Of course, make sure you know what purchases are covered and which are excluded before making any.
4. Accidental death and dismemberment insurance
Should you or another covered person die or be killed while on your trip, accidental death and dismemberment insurance provides transportation costs for your body to get back to Canada.
"Technically, it's life insurance, but it typically only covers funeral and transportation costs while travelling," says Choi. "If you find your coverage won't apply for as many days as you will be gone, you may have to get an individual plan to make sure you have sufficient coverage."
5. Lounge access and concierge services
If you're a frequent traveller, airport lounge access is a great perk to have, and your credit card may offer it. Typically, lounges include comfortable chairs, a hot meal, free Wi-Fi and more. Some airport lounges outside North America even include showers, beds and massages.
Lounge access sounds great, but it comes with restrictions -- and it's usually a perk on higher-end travel cards.
"Usually, credit cards with lounge access come with high annual fees," says Choi. "For example, the American Express Platinum Card has a $600 annual fee." Additionally, some lounges are only accessible if you booked the flight using points, Choi says.
Concierge service is offered separately on some credit cards, and it's like having your own personal travel agent to book your trip for you. "I think it's a service that not many people use or even know they have," says Choi.
To save you money and even hassle when traveling, read the fine print for details on your card's perks before you head off on your next vacation or business trip. That way, you're not only prepared in case you need to use the perks, but you won't end up shelling out extra for something you already have.
See related:
7 secrets about credit card travel accident insurance
,
Credit card extended warranty, insurance perks can save you big
,
Is your credit card trip insurance enough?
Published September 15, 2016
Most recent All credit card news Stories