Cash, debit or credit? When to use which payment
Your wallet is packed with coins, bills, your debit card and credit card, while you're making purchases in person, online and through apps on your smartphone.
How do you decide which payment tools to use for various situations?
"We are in an age where opportunities to purchase things are very wide," says Pat White, executive director of the Credit Counselling Society. "It used to be cash-only as little as 50 years ago, and it's now changed, where there are so many options, from cash, debit, credit and new digital forms of payment linked to our credit cards and bank accounts. It's making it easier to pay for things."
"There is a reason why there are so many payment tools, but some are better for you than others," says Judith Cane, an Ottawa-based financial coach. "If you're bad with spending, you know you can't use a credit card, so cash is safest. If you are careful and pay your balance, your credit card will get you perks that cash and debit can't."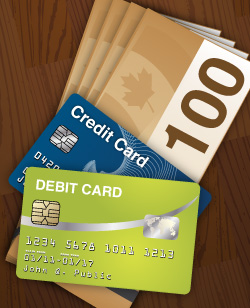 Here's the rundown on when to whip out the cash, debit or credit card, according to the experts.
When to use cash
Canadians are ditching cash for other easier-to-use payment tools, according to a Bank of Canada report released in 2015.The report said cash made up 44 per cent of Canadians' transactions in 2013, down
10 percentage points from a similar review in 2009.
So when is it the right time to pull out what's quickly becoming an "old-fashioned" method of payment? According to the report, cash is most useful for "speed and convenience" in "lower-value transactions."
Cash is best for anything that is in your monthly budge that you know you won't need to return or keep a paper trail of, Cane says.
That could mean your weekly groceries, a cup of coffee and a bagel in the morning or your weekend newspaper. You could also pay your bus fare, parking meters and other miscellaneous costs with cash.
Cash is handy when you're hitting the reset button on your spending, too. "If you're trying to pay off any high interest debt and get your finances in order, sometimes you just have to put yourself on a cash diet," White says.
"Cash diets are very handy and convenient and give you control over your spending," Cane says. However, she concedes that "you have to be tired of being in debt all the time to go this route, though."
Other instances to use cash include shopping for second hand items at garage sales or on sites such as Kijiji and Craigslist, where debit and credit are often not accepted. "When you're buying privately, the only acceptable method is cash," White says.
Finally, carrying cash can bail you out of paying administrative fees or charges for using plastic to make a purchase at doctors' offices, on campus or at other institutions.
When to use debit
Like cash, debit card use is sliding -- debit cards made up 21 per cent of purchases in 2013, compared to nearly 25 per cent five years earlier, according to the Bank of Canada report. It's hard to reason why a debit card is better than credit when credit cards come with so many perks, such as extra insurance or rewards.
But debit cards do have their advantages. For one, they are handy to withdraw money without facing cash advance fees. They're also a way to have the convenience of plastic without the temptation of credit.
"Unless you have an overdraft, you're limited to how much you can spend so it's a great way to control your spending and control your ability to get into debt," White says.
Cane lets her clients graduate into using debit cards if they manage their cash diet well. Carrying around cash can be tedious, so instead you can put money into a spending account tied to your debit card. Like cash, once the money is gone, your spending opportunities are over.
"I prefer to use debit cards over credit cards," Cane says. Money can be moved around to various accounts and e-transfers from various accounts are easy to arrange, too.
Like credit cards, debit cards have the advantage of having every transaction recorded on a statement, making it easier to track your purchases for your budget. Some debit cards even come with rewards, such as the Scotiabank Scene debit card, which gets you points to redeem at the movie theatre.
When to use credit
Ninety-two per cent of Canadians have at least one major credit card, the Canadian Bankers Association says, and it's not hard to see why. A few of the benefits of credit cards include:
Rewards, such as air travel points and cash back.
Insurance, such as basic rental car insurance, product protection, damage and loss insurance and extended warranty programs.
Ability to make purchases online.
Fraud protection with zero liability policies.
Convenience and safety associated with not having to carry large amounts of cash.
Protection from losses for consumers when they pay for something in advance, such as travel packages, concert tickets or goods on order that do not arrive.
Detailed spend tracking built into your credit card statements.
24/7 access to online statements.
Both White and Cane say while there are huge benefits to using credit as your payment tool, they're only beneficial if you're a conscientious spender and you're able to make the monthly payments on your purchases.
Credit cards come in handy for major purchases, especially appliances, electronics and trips, thanks to their built-in insurance. For instance, your credit card could add an extra year of an extended warranty, it could have price protection in case your purchase drops in price or your card could cover trip cancellation and lost baggage expenses.
Your credit card also helps you build a credit history, which will be advantageous when you're applying for a car loan, mortgage or even another credit card down the road. Of course, you must use credit responsibly, making sure you pay your bill on time (and in full, if possible). And you'll need to keep your credit utilization ratio -- the amount of credit you have available compared to how much you're using -- as low as possible.
But credit cards aren't for everyone. If you're prone to debt, the risks outweigh the benefits.
See related:
How age, income, education affect preferred payment types
,
Peer-to-peer payments vie to make wallets a thing of the past
Published April 27, 2016
Most recent All credit card news Stories