Why Canadians are slow to adopt mobile payments
The majority of Canadians own smartphones, and many use their phones to shop online. But the country shies away from mobile payment systems, which require loading a credit or debit card onto your smartphone, then tapping the phone at the register to pay for items in the store.
Experts say that could change, as more people use smartphones from a younger age and paying by phone becomes a natural extension of their experience.
Almost two-thirds of Canadians owned a mobile phone at the end of 2013, according to comScore's Canada Digital Future in Focus 2014. However, a November 2014 study from global research firm GfK found that just one in five Canadian shoppers made a mobile payment over the prior six months. In contrast, one in three American and eight in 10 Chinese consumers made mobile payments in the same period.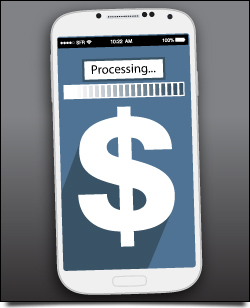 According to Deloitte Canada's 2014 Holiday Outlook Survey, only 14.6 per cent of respondents said they would like to use their smartphone at checkout.
Jennifer Lee, partner and National Omnichannel Leader at Deloitte Canada, and David Hardisty, assistant professor of consumer marketing at the University of British Columbia, weigh in on why Canadian shoppers seem to be reluctant to pay via mobile device.
1. Payment technology is immature.
It is still early days in the mobile payment technology game. A limited number of Android smartphones and only two iPhones (the newly released iPhone 6 and iPhone 6 Plus) include Near Field Communication (NFC) payment capability. NFC is the wireless communications technology that allows the flow of information between two devices. It's often marketed as "tap-to-pay" or "tap-and-go" payment technology.
Apple Pay, which enables American iPhone 6 users to pay on contactless merchant terminals that accept Visa, MasterCard and American Express cards, has yet to launch in Canada.
Lee notes that Google Wallet, which launched in the U.S. in 2011, still hasn't fully rolled out in Canada while Google works out technical and logistic kinks.
"I just think that mobile payment technology is not as well-developed in Canada nor is e-commerce as sophisticated as it is in the U.S., which are big factors in their slower growth in Canada," Lee says.
2. Consumers underestimate mobile advantages.
Statistics compiled by Canada.CreditCards.com show that as of 2012, the average Canadian owned 2.9 credit cards and as of 2013, the average Canadian earned rewards points under at least three different loyalty programs. Still, only 22 per cent of GfK study respondents recognize the convenience of having all payment-related methods in one place on their smartphone.
According to Hardisty, another factor is that users simply don't know how to set up payment functionality on their phones. Also, since plastic credit and debit cards are already small and relatively convenient, the benefits of configuring your mobile device to make payments may be dismissed as marginal.
"For some consumers, mobile payments just mean that you don't have to carry your wallet or purse with you all the time to make purchases -- like when you are out for a run, and want to stop and get something at the store on your way back," says Hardisty. In other words, most people are carrying their wallets anyway if they're out and about (for identification or cash), and having their credit card on their phone isn't a that much more convenient than pulling a physical card out of their wallet.
3. Mobile payments are not yet a social norm.
Hardisty, an expert in marketing and product placement, says an important factor slowing mass adoption of mobile payments is that Canadians don't see high-profile role models paying with their mobile devices. While somewhat of a Catch-22 situation, if consumers watch sports, television and movie celebrities or even other consumers making mobile payments, they are more like to think about doing it themselves.
Craig Patterson, editor-in-chief of news analysis portal Retail Insider, wrote in an email interview that mobile payments are set to grow given that young Canadians are practically married to their mobile devices and paying with them is a natural extension. Mainstream growth of mobile payments has explosive potential, provided consumers perceive them as being safe and convenient, he says.
Personally, Hardisty says that he always has his wallet with him, so usually pays by credit card, but he's willing to try paying by smartphone just to see what all the fuss is about. A time-pressed mother of two young children, Lee says she is motivated to complete shopping trips promptly so she already pays using her mobile phone when possible.
"So whether mobile payments become the next big thing is all about seamlessness, how smooth mobile payment apps are and user-friendly the shopper experience becomes," Lee says.
See related: Cybercrime is nothing to like or share; Expert Q&A: Are mobile payments safe for consumers?
Published December 10, 2014
Most recent Product Features Stories