Why credit cards make it more expensive to dine out
The next time you reach for your credit card to pay for a restaurant meal and grumble about the high cost of dining out, you might want to rethink your preference for plastic.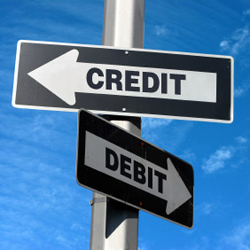 At least that's according to a growing number of Canadian restaurant owners who participated in a contest last month that encourages customers to use their debit card to pay for a meal.
The contest, sponsored by debit card association Interac, aimed to boost debit card usage and highlight exorbitant credit card fees -- charges that they say trickle down to Canadians' restaurant bills.
Customers who used their debit card to pay for a meal any time over a 12-day period could submit their receipts online for a chance to win $500 in cash.
In this Q&A, Justin Taylor, vice president of labour and supply at the Canadian Restaurant and Foodservices Association, offers his take on how your credit card is taking a bite out of your savings and driving up the costs of dining out.
CreditCards.com: How do credit card fees impact restaurants?
Justin Taylor: Credit card fees represent an additional cost that restaurants must absorb. Restaurants must now absorb fees of up to 3%, while their pre-tax profit margins are only 4.5%.
In addition to absorbing the fees on the meal served to customers, restaurants must also absorb the credit card fees on the tips paid to servers and on the GST/HST collected on behalf of the government.
Restaurants currently absorb over $40 million per year in credit card processing fees for the sales taxes they collect on behalf of the federal and provincial governments.
CreditCards.com: How does this impact trickle down to customers?
Taylor: Because profit margins are tight in the industry, restaurants have no choice but to increase menu prices to compensate for high processing fees.
CreditCards.com: Why are organizations like the Canadian Restaurant and Foodservices Association encouraging the use of debit cards among consumers?
Taylor: Debit cards are a much more affordable method of payment for restaurants to accept.
The fees charged to accept Interac payment can be as low as $0.06 no matter the size of the bill. Credit card processing fees, on the other hand, are based on a percentage of the transaction amount and fees are significantly higher.
Restaurants want to encourage customers to pay with a method of payment that is convenient to them but is affordable to the restaurant.
CreditCards.com: What changes would you like to see credit card companies make in terms of fee structure?
Taylor: Restaurants want predictability and transparency in the fees charged to them and they need to have the tools available to allow them to control their costs.
Restaurants want to be able to know what fee will be charged in advance of accepting a method of payment. They also want the fees charged to be reasonable and affordable.
See related:
Merchants and issuers clash on fees
;
6 tasty ways to cut food costs
Published November 3, 2011
Most recent Shopping Stories