Why we pay card fees -- and how to avoid them
No one likes paying credit card fees. Educating yourself on what fees you're paying, and why, can help you minimize or avoid extra costs.
Dr. Ian Lee, who teaches at Carleton University's Eric Sprott School of Business, explains that fees are necessary to cover Canadian banks' brutally expensive network. Gigantic, extraordinarily fast computers hook up every bank and ATM in real-time communication through advanced, complicated and sophisticated software. According to Lee, running those behind-the-scenes systems cost many billions of dollars annually.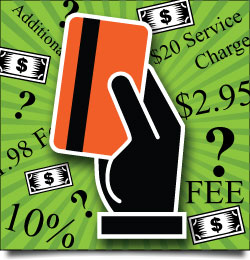 "I pay credit card fees and sure, they're annoying," says Lee. "But I don't sit around crying crocodile tears, because I remember what it was like in the days of all cash in the 1970s when my bank had no ATMs."
Lee sees credit card fees as part of the inevitable price that Canadians pay for their stable banking system.
"If banks don't recover their network, systems and operational costs via credit card fees, they'll only recoup their money by charging more for other services," says Lee.
Fees that cause the most complaints
But that doesn't mean other Canadians don't object to having to pay credit card fees.
Spokesperson Natasha Nystrom says the Financial Consumer Agency of Canada (FCAC) handled 100 inquiries and complaints about credit card fees from 2012 to 2013. Foreign exchange charges, over-the-limit penalties and annual card fees were the most common issues. Over those same two years, the Ombudsman for Banking Services and Investments (OBSI) investigated nine credit card fee complaints that were escalated by consumers, according to OBSI director Tyler Fleming.
In an informal poll conducted on consumer savings website RedFlagDeals, respondents overwhelmingly chose foreign exchange fees as Canada's most annoying credit card fee. Inactive account fees and over-the-limit penalties locked in the second and third place spots.
Foreign exchange fees cost an extra 2.5 per cent on transaction amounts converted on a Canadian-currency credit card, whether you use your card for purchases outside Canada or buy products or services online priced in another currency. With the value of the loonie dropping versus the U.S. dollar, Canadians can expect the foreign exchange fees to hit their pocketbooks even harder.
Minimizing annoying charges
"I think the most concerning costs are cash advance fees because they start immediately upon obtaining the funds," says Patricia White, executive director of Credit Counselling Canada.
White says that in general, Canadians don't understand credit card fees. To learn more, consumers can read the FCAC's online publication Understanding Credit Card Fees. They can also contact their card issuers and ask exactly how specific fees are calculated, which can help cardholders avoid or minimize fees.
Foreign exchange
Cynthia J. Kett, a principal of Stewart & Kett Financial Advisors, advises people who travel regularly to the States to consider a U.S.-currency credit card as a way to avoid the extra 2.5 per cent foreign exchange fee.


Inactive account
This fee annoys many cardholders who question the logic of paying for services they don't receive. Consumers can avoid inactive account charges by immediately cancelling any cards they no longer use.


Over-the-limit
Over-the-limit penalties also result from not paying enough attention. Disciplined cardholders who stick to a budget and carefully monitor their monthly statements can usually stay within their account limit.


Paper statement
Ken Kostaras, a group benefits analyst in Toronto, is most peeved by charges for statement and transaction copies.

"Shouldn't cardholders who go paperless be rewarded with incentives rather than face fees?" he asks.

Still, most card issuers make available electronic versions of transaction records and statements for a specified period, usually 12 or 18 months. During that timeframe, cardholders can download and print hard copies without having to pay a fee.


ATM
John Stapleton, author of Planning for Retirement on a Low Income, says ATM charges tacked onto other credit card fees pose the biggest challenge for some people. However, many consumers can choose whether or not to incur those costs.

"I avoid the extra fees by driving to one of my bank's ATMs rather than pay the extra $2 or $4 if I use another bank's ATM," says Lee.


Annual
Probably the easiest cost to avoid is the yearly card fee, since consumers can simply choose one of the many available no-annual-fee credit cards


Missed payment
There's a simple (though not always easy) way to avoid missed payment fees.

"We pay our bills promptly and on time, and rarely incur any credit card fees or penalties," says Brantford's Charles Leonhardt, a retired high school principal.
See related: Rising bank fees frustrate consumers; How to cope with foreign transaction fees
Published February 14, 2014
Most recent All credit card news Stories