Bend it like plastic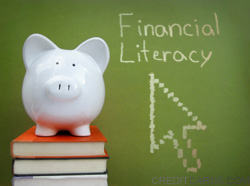 Soccer fans around the world are avidly watching the FIFA 2010 World Cup, which kicked off June 11 in South Africa. To commemorate the event, Visa launched an online financial soccer game in Canada as part of a worldwide effort to improve financial literacy among 20 million consumers in the next three years. Visa developed the game with football's international federation, FIFA, and plans to roll out the game in 10 languages across 30 countries.
Of course, some might wonder what kicking a black and white ball around a field has to do with money management. Financial Soccer is a free online game that uses multiple-choice questions of varying difficulty to test players' knowledge of financial management skills as they advance down field, and try to score goals. Teachers are being encouraged to review and download the curriculum for students. The thinking behind Financial Soccer is that by having fun and interacting online, students will more readily embrace more mature money concepts, including saving and budgeting.
With visually appealing video game-like graphics, players can customize their game based on level of difficulty, game length and team identity. To the cheers of fans, players can help little soccer mates strategically move the ball from player to player and across the field by answering multiple-choice questions on topics including liability on fraudulent charges, early withdrawal penalties and reviewing monthly banking statements. Questions pop up in clear dialog boxes, and the ball's direction is determined by a question's level of difficulty. For example, answering a hard question correctly moves the ball closer to the goal.
That's not to suggest, however, that professional soccer players couldn't afford to learn a thing or two about money management themselves. After all, they've got plenty of cash to play with. The average guaranteed salary in the Major League Soccer (MLS), a professional soccer league based in North America, is $115,432. And the current salary cap in MLS is $2.55 million as of 2010. However, the Designated Player Rule, introduced in 2007, allows each team to have two designated players who will be exempt from the cap.
For this reason, David Beckham, who was signed by the Galaxy under the designated-player rule, is the highest-paid player in MLS with a base salary of $5.5 million and guaranteed compensation of $6.5 million. Red Bulls F Juan Pablo Angel and MF Claudio Reyna, and Fire F Cuauhtemoc Blanco, also signed under the designated-player rule, will each earn more than $1 million this season. What's more, Galaxy F Landon Donovan and Wizards F Eddie Johnson will earn $900,000 and $875,000, respectively. All the more reason for money-minded students -- and aspiring soccer players -- to hit the field, virtually or otherwise.
Updated July 16, 2010
Most recent All credit card news Stories