Poor credit use, even in your teens and twenties, can have lasting effect
Young people are often misinformed -- or uninformed -- about credit, or they adopt a "YOLO" attitude that makes them careless with their charging. However, poor credit choices in your 20s can have a more lasting effect than you may think, especially if bad behaviours aren't changed.
Effects in the short-term
A common credit mistake younger people make is spending more than they can reasonably afford to pay off. Perhaps the bill comes in and you find that even making the minimum payment is out of reach, much less paying the balance in full. Soon, late payments and defaults start piling up.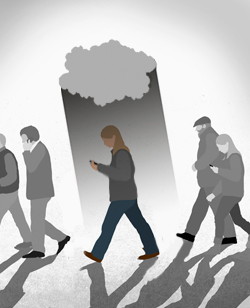 Such mistakes will have an almost immediate impact on your credit report and credit score. Suddenly, you'll go from having great credit to having only "good" credit. The more mistakes you make, the worse your credit will become, decreasing from good, to fair, to poor, to very bad.
Not to mention, you'll have the added expense of late fees and added stress of not being able to pay your bill.
Lasting impacts of irresponsible credit behaviour
Later in your 20s you will be graduating from university, taking out car loans and insurance and possibly securing lines of credit. As you search for your own place and for a new job, those credit mistakes made in your early 20s will cost you -- your car loan interest and insurance rates will be higher, and potential employers and landlords may reject you based on your poor credit status.
When employers and landlords are comparing two qualified candidates, the person with a poor credit score could be viewed as not responsible or trustworthy, Leslie Tayne, a debt attorney at Tayne Law Group P.C., said in an emailed response to questions.
Additionally, while good credit and solid credit habits can put extra money in your pocket, bad credit can take money right out of your wallet, Tayne said. For instance, if you get a low paying job or have to pay more for an apartment because of low credit, your bottom line decreases.
Lower income and higher rent add up to reduced savings, which could mean having to wait longer to put a down payment on a home or having to apply a smaller down payment and take out a larger loan. (The end result, of course, is you will pay a higher interest rate on your home loan than if you would have had better credit).
And when your income is lower or your bills are higher, you won't have as much room to pay down any outstanding debts you've already incurred, such as student loans or even the very credit card that got you into the mess.
Finally, your ability to save for emergencies or the future is impacted, too -- it's truly a snowball effect.
Good credit starts with your first card -- no matter how old you are
While it's easy to fall into the trappings of a "you only live once!" mentality, the truth is, you cannot ignore your credit until the time comes to take out a loan, search for an apartment or apply for a job. Financial experts say you should develop good credit habits starting as soon as your first card arrives in the mail.
Before you start charging, have a budget that you adhere to, and if you do make an extra-large purchase, make sure you have a solid plan to pay it off. Be sure you're not using the card to pay for nightly pizzas, the latest gadgets or drinks every weekend.
Instead, build a strong credit profile by using the card regularly for purchases you can afford to pay off in full. Although minimum payments are convenient, paying off what you spend on a monthly basis shows you live within your means, Julie Pukas, TD Bank's head of U.S. cards and merchant solutions, said in an email.
Finally, if you make a credit or money mistake, fix it as soon as possible. Maybe you forgot to pay a bill until the day after it was due, or you didn't realize your interest-free deal was coming to a close and you still have a balance. Contact your bank, explain the situation and ask it to waive any late fees (if this is the first occurrence). Banks are often willing to work with their customers.
If you do end up with a negative mark on your credit file, work hard to make up for it with good credit behaviour. Realize, though, that it will take time to recover erase that negative mark, so be patient.
The bottom line: use your card wisely, even if you are feeling peer pressure to not worry about it. If you start good credit habits now, you can avoid a dangerous spiral that could affect the rest of your life.
See related:
5 common credit score mistakes
,
End the vicious cycle of using your card to make ends meet
,
The difference between good and bad debt
Published August 16, 2016
Most recent All credit card news Stories